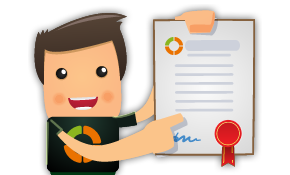 Come, join and learn from our SEO training Philippines. Start updating and upgrading your SEO and SEM skills with the help of our experts! Our real word-based trainings are world-class and yet easy to comprehend. The contents of the trainings cover all aspects of SEO today.
Our 5-day SEO training course gives digital marketers the knowledge they need to execute a successful SEO campaign. These SEO trainings are currently available in the Philippines.
Rates and Terms
*applies to both Basic and Advanced SEO Training course
Minimum pax: 5           
Rate: ₱35, 000/pax
Days: 5      
The rates are inclusive of a certificate, lunch and snack.
Contact us to schedule any of the two training TODAY!
Basic SEO Training Course
By the end of the Basic SEO Training course, the trainee is expected to be able to do the following:
Choose keywords based on keyword research statistics and value;
Implement the proper on-page SEO strategy; and
Know the different link building techniques that are currently being implemented.
Advanced SEO Training Course
By the end of the Advanced SEO Training Course, the trainee is expected to be able to do the following:
Use different software/tools for advanced link building techniques;
Understand ranking effects on website traffic;
Estimate future traffic from current data; and
Implement content management strategies to boost ranking.
Pre-requisites:
Trainees are expected to know Basic SEO techniques such as on-page optimization and keyword selection.
We also offer specialty SEO training Philippines courses as follows:
On-page SEO
Off-page SEO
Technical SEO
Keyword Research
Competitive Analysis
Why learn SEO
SEO is the most common strategy of gaining quality traffic from major search engines such as Google, Bing and Yahoo. The better the website is optimized, the higher the volume of traffic it gets and the higher its ranking on search engines will be.
Put simply, search engine optimization leads to high web visibility that, in turn, leads to more visitors. In SEO lingo, more traffic means more sales and thus higher profitability. Not only SEO can generate targeted traffic, but the generated traffic is also free.
Thereby, SEO is one great way of building trust. Take it from Google. It will not rank a particular website on top of SERPs if it isn't a reputable site.
When the site appears on search engines for a keyword, the user will associate your website to the keyword he or she used. This helps in building both traffic and trust.
Learn SEO now
If there is one pre-requisite of building a successful SEO campaign or SEO career, that will be SEO training Philippines. You need not be an IT graduate. However, if you want to excel on site and page optimization, you need to undergo relevant trainings or short courses. Choose the training that is appropriate for your current skills set.
Our SEO training Philippines and short courses devote 10% of the time to Q&As and open forums. Our SEO experts know that the trainees must understand the material in-depth first before they can relate it to their unique situations and circumstances.
Ready to upskill? Contact OptimindSEO and we will tell you how.