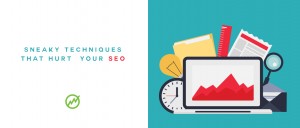 Search Engine Optimization (SEO, for brevity) is not dead. No matter what the critics may say — SEO remains as a powerful marketing strategy with the majority of SEO companies offering link building services guarantee results. However, SEO is not as straightforward and as easy as many of us wants it to be.
More often than not, even SEO specialists themselves will encounter a few kinks and bumps down the road, resulting into a very frustrating workflow. So, what do stressed and frustrated SEO specialists do? They resort to shortcuts.
Underhanded and offensive shortcuts at that with hopes that these black hat techniques would get them roughly the same results as the legitimate techniques, only with lesser hassles and stresses. However, this is not exactly the best way to optimize your website. In spite of giving you substantial and fast results, it may very well be the main cause of your website's death. Sure, it's fast, easy and it gives you the desired results, but it is rarely worth it.
Many might think that black hat SEO is a thing of the past, but this is a very common misconception. Black hat SEO still remains as one of the most obnoxious ways to garner website traffic. However, due to specific circumstances, SEO specialists are pushed to implementing these black hat techniques. Some choose the lesser evil which are gray hat techniques.
This post aims to make you aware of the many underhanded methods that website owners and even optimization experts may utilize to game Google's ranking system. Though each of these may sound incredibly enticing, the implementation of any of these would inevitably result in being penalized by Google. Yes, Google will know that you are intentionally being deceptive. The post categorizes these techniques into three, ranging from bad to the extremely terrible and will give you samples for each proffered category.
THE BAD
These strategies are tricky and stealthy. You may be using them unwittingly with the misplaced notion that they are not hurting rankings. They are not done deliberately and can temporarily increase rankings.
1.)    Keyword stuffing
Sure, you managed to craft content that is both rich in information and compelling. However, at a second glance, you would see that it is rich in something else as well – keywords. And by that, it would mean that almost every line of your post is literally laced with a keyword or keyphrase. This may get you ranked. However, nowadays, it's not as effective. Keyword utilization is still necessary and beneficial, but writing excellent content that offers rich themes and substantial information should be a priority rather than keyword density.
2.)    Keyword stuffing your image tags
Some SEO people, especially the inexperienced ones, utilize this technique. Those who did this has a misguided notion that since nobody is minding their images, they might as well stuff it with keywords. However, this misconception should be debunked. Though this will not result into any sort of penalty, it would be a challenge to your visually-impaired visitors and will not do anything good for your on-page SEO.
3.)    Guest blogging for the sole purpose of link building
In building your brand and expanding your reach, this seems like a necessary  action. But take caution as guest blogging on irrelevant sites just to gain links is             never okay. This could potentially get you in trouble more so because the mantra nowadays is earning editorial links.
THE EVEN WORSE
These are the techniques you are very well-aware are not so acceptable. However, for the sake of page rankings and favorable web traffic, you are willing to look the other way. These are the techniques that might cause an initial increase, but take heed; you will eventually have to face the consequences.
1.)    Using irrelevant keywords in order to rank
There are days wherein we need to produce topnotch contents. However, there are also days wherein we could not find relevant themes to fit the barrage of keywords we are given for the week. So what do some optimizers do? They utilize them anyway. This is one of the shortcuts that marketers do for the sole purpose of ranking for those keywords. Unfortunately, Google has been sharpened its algorithms to identify a page's real topic through Latent Semantic Indexing (LSI). So, using this otherwise unacceptable technique is moot anyway.
2.)    Meta keyword stuffing
Over-optimizing your Meta keywords does not hold any real consequences, but it does not do much either as it would not give you any sort of advantage in terms of rankings. The same can be said for your Meta description. Though Google would not use the content of your description as a ranking factor, it serves as your ad copy in the SERP's. So, with that in mind, make sure you craft the meta description in such a way that it describes your page accurately, enticingly and appealingly.
3.)    Irrelevant footer links
Footer links are extremely necessary for helping visitors navigate your site. However, there are some sites which utilize footers but not necessarily aimed at helping users. They do it so they will garner more rankings for their keywords. Keep in mind that if you are indeed providing a link in your footer, make sure it is actually useful for your visitors. Do not do it for ranking purposes.
THE EXTREMELY TERRIBLE
You are well aware that this is wrong, but you do it anyway. You are enticed by the easy rankings and you just cannot help it. A word of warning though. This is going to get you penalized. Best case scenario would be you preparing to receive a manual penalty. However, there could also be a complete de-indexing of your site.  
1.)    Baiting then switching
In a nutshell, this involves waiting for a page to rank, then stealthily replacing it with a different page. This will get you irrelevant ranking for a while, but nothing bypasses Google. They will eventually figure this strategy out. You may see this as getting ranking, but it would also send your bounce rates through the roof. Thus, this is hardly worth the risk.
2.)    Doorway pages
These are pages crafted for the purpose of intentionally getting a keyword ranked by merely diverting visitors to a different page in the process. Doorway pages offer little to no content at all and often result in many useless pages, taking up all the top rankings for a given keyword.
3.)    Invisible text
As archaic and obsolete this strategy may be, it is still rather rampant and happens rather regularly. What happens here is that webmasters would disguise keywords on a certain page by matching the text color to the background. In some instances, they position the text off the screen using CSS, making it only visible to search engines.
In closing…
There are a lot more black hat techniques including link schemes that are not covered by this article. However, we have glossed over some of the most common strategies that are still surprisingly utilized today despite being corrupt.  Always take into consideration that these techniques may increase your traffic and give your keywords ranking in the short-term. But, more likely than not, it would damage not only your rankings but your reputation as well in the long-term.
And are you really willing to take that risk just for the sake of doing things easier and faster? I think not.